To help enhance the competence of the testing and research industry in the country, the Department of Trade and Industry's Bureau of Philippine Standards (DTI-BPS) has adopted as Philippine National Standards (PNS) the following standards of the International Organization for Standardization (ISO) on Non-Destructive Testing (NDT):
PNS ISO 9712:2020 Non-destructive testing – Qualification and certification of NDT personnel
PNS ISO/TS 11774:2020 Non-destructive testing – Performance-based qualification
PNS ISO 18490:2020 Non-destructive testing – Evaluation of vision acuity of NDT personnel
PNS ISO 20807:2020 Non-destructive testing – Qualification of personnel for limited application of non-destructive testing
PNS ISO/TS 22809:2020 Non-destructive testing – Discontinuities in specimens for use in qualification examinations
PNS ISO/TS 25107:2020 Non-destructive testing – NDT training syllabuses
PNS ISO/TS 25108:2020 Non-destructive testing – NDT personnel organizations
Non-destructive testing (NDT) is an evaluation method that is used to determine the characteristics of a material and/ or product without sacrificing its functionality. NDT is one of the most widely used test methods across all industries because material and product loss is kept to a minimum, effectively saving time and money. The NDT standards are necessary to ensure the consistency of the quality of the products evaluated through this method, as well as the safety of the people and the environment involved.
Stakeholders that benefit from the use of NDT standards include:
government regulatory authorities
research and testing institutions
conformity assessment bodies
energy and transport industries
manufacturing industries
These standards also provide:
definition of general technical terms used in many NDT disciplines
guidance for personnel working in NDT
guidance in the evaluation of performance demonstration vis-à-vis the ability of a specific examination system, equipment, procedure, and personnel
procedure for evaluating and documenting the competence of personnel whose duties require the appropriate theoretical knowledge and practical competence of the nondestructive tests that they perform
Underscoring the importance of non-destructive testing (NDT), BPS Director Neil P. Catajay states, "NDT ensures the reliability, quality and safety of products that consumers use in their daily lives. With the national adoption of these ISO standards on NDT, the standards become easily accessible to our local research and testing industry to help them make their NDT processes at par with global standards. We encourage our domestic innovators to implement these new PNS in their NDT activities not only to ensure consumer safety but also to improve the competitiveness of locally produced products."
When implemented, these standards will contribute to the following United Nations Sustainable Development Goals (UNSDG):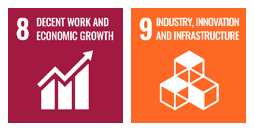 The DTI-BPS is the National Standards Body of the Philippines. It is the country's member to the International Organization for Standardization (ISO) and the International Electrotechnical Commission (IEC).
The new Philippine National Standards (PNS) are available for purchase at the BPS Standards Data Center. Please call (02) 7791.3127 or email at This email address is being protected from spambots. You need JavaScript enabled to view it. or This email address is being protected from spambots. You need JavaScript enabled to view it. to secure your copy.
For updates and more information on Standards, Technical Regulations and Conformity Assessment Procedures (STRACAP) and the DTI-BPS, please visit the Standards and Conformance Portal at www.bps.dti.gov.ph and follow our Facebook page. For inquiries, please email the DTI-BPS through its official email address: This email address is being protected from spambots. You need JavaScript enabled to view it..