Standards Development
The DTI-BPS through the Standards Development Division develops Philippine National Standards (PNS) using two (2) methods: the Technical Committee Method and the Fast Track Method. In both methods, the participation of stakeholders is vital in the standards-making process.
As the National Standards Body (NSB) of the country, the DTI-BPS is responsible in the development, promulgation and implementation of standards as well as the coordination of standardization activities in the Philippines
In the global context, the DTI-BPS participates in the development of international standards by the International Organization for Standardization (ISO) and the International Electrotechnical Commission (IEC). The Bureau also takes part in the harmonization activities within the southeast Asian region through the ASEAN Consultative Committee on Standards and Quality (ACCSQ) and the Asia-Pacifi¬c Economic Cooperation (APEC).
Technical Committee Method
Philippine National Standards are prepared by the BPS Technical Committees (BPS/TCs). TCs are composed of representatives from relevant stakeholders as its members. It is essential that standards reflect sound and balanced needs of the various sectors. Standards are developed according to the principles of consensus, industry-wide, and voluntary.
Below is the sequence of project stages and process flow of standards development: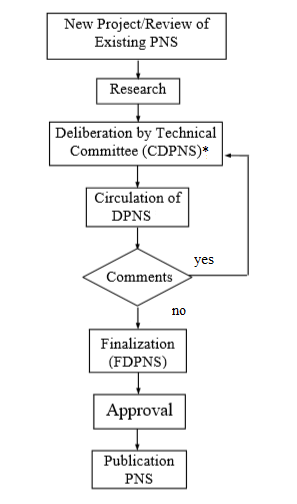 Project stage

Associated document

Name

Abbreviation

Proposal stage

New work item proposal

NWIP

Committee stage*

Committee draft(s)

CDPNS

Circulation or Enquiry stage

Enquiry draft

DPNS

Approval stage

Final Draft Philippine National Standard

FDPNS

Publication stage

Philippine National Standard

PNS

*This stage may be omitted in the Fast track method.
Fast Track Method
To provide market relevant standard in a timely manner, the BPS also adopts the fast track method in standards development/adoption. It is also used to respond to an urgent market need of a particular standard. In this method the technical committee deliberation may be omitted.
Regional / International Linkages