(Trust in consumer electronics, healthcare devices through IECQ testing and certification)
By Claire Marchand
In the last decade the healthcare sector, which had until then been mainly in the hands of professionals, has seen a major shift. People now keep tabs on their diet, activity and health with the help of dedicated smart devices and apps. Home healthcare devices and equipment allow patients with chronic conditions to monitor and share their vitals with clinicians on a regular basis.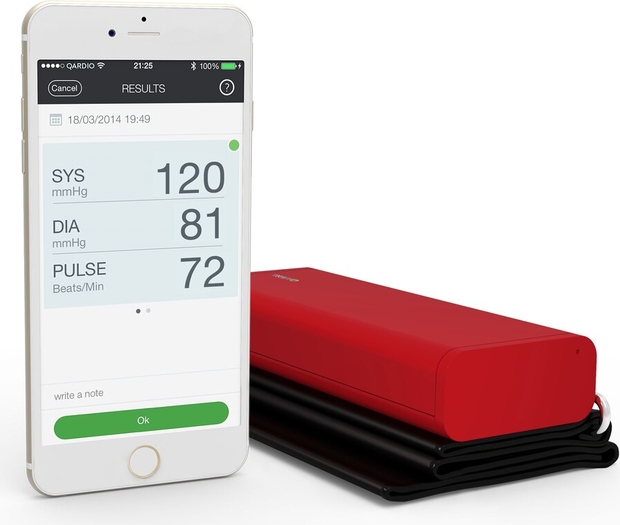 People can monitor their blood pressure at home (Photo: Qardio)
Technological advances in the workplace and at home have made people's life easier in many ways but have also made them more sedentary than ever before. The lack of physical activity, coupled with unhealthy eating behaviours – processed, ready-to-eat foods became a staple of the 1980s and 1990s – had dire health consequences, mainly in industrialized countries, where an ever increasing number of people were overweight. In the late 1990s, people began to realize the errors of their way, turned increasingly to organic food and started to take better care of their health and wellbeing. The advent of smart consumer electronic devices since the mid-2000s and the proliferation of health and fitness content through websites, apps and social media posts have helped them in their quest.
The health and fitness industry has seen an unprecedented growth in recent years and the demand for smart devices and smart apparel keeps growing at a rapid pace.
Watches not only give you the time but also count the number of steps you take in one day and measure your heart beat. Scales don't just tell you how much you weigh, they add your body mass index (BMI), percentage of bone and muscle mass or body water, body fat; in some cases, they even provide you with weather forecast for the day! Smart apparel can track the speed, distance and acceleration of a runner, muscle activity, calorie burn and/or other biometrics. Bluetooth connectivity in a jacket allows the wearer to access online music or navigate sites by just touching a sleeve. Smart fabric may not yet be mainstream but it's getting there.
Since all data collected by smart devices and apparel are transmitted wirelessly to a mobile device via dedicated apps, people can keep track of their performance and progress over time.
Home patient monitoring
While technological advances have changed the life and behaviours of health-conscious people, who can take better care of themselves with the help of smart devices, they have also hugely benefitted the medical sector.
Technological innovations have modified the doctor-patient relationship. Today, doctors can provide – as they once did, many years ago, when they still made home visits – diagnosis, monitoring and treatment in patients' homes, thanks to the development of medical equipment and products specifically designed for in-home use.
In a not so distant past, a doctor appointment – or at least a visit to a chemist – was necessary to have one's blood pressure measured. The advent of electronic devices in the second half of the 20th century changed behaviours, allowing people to monitor it at home. The same goes for blood sugar levels: electronic home glucose meters were on the market in the early 1980s, allowing people with diabetes to check the concentration of glucose in their blood several times a day.
Heavier treatments, such as dialyses, can now also be performed at home. While in the past patients had to block time and go to a specialized facility to receive therapy, they can now use home dialysis equipment, thus reducing the costs of therapy and increasing their personal comfort.
And again, all measurements made by wearable or home monitoring systems are relayed to clinicians who can detect any abnormal readings and request patients to come to the clinic or practice for adequate treatment.
No smart device without sensors
These technological innovations and advances wouldn't have been possible without sensors. They have played a major role in the development of the sophisticated and extremely accurate equipment installed in medical centres, and are obviously key in the in-home and wearable devices that are increasingly used by patients throughout the world.
Sensors come in many shapes and forms: vision, flow, fibre optic, gas, motion, image, colour, light, pressure, infrared, photoelectric and so on. They are a key underpinning technology for a wide range of applications. In medical equipment for instance, pressure, temperature and force sensors monitor critical parameters in dialysis equipment. For fall and activity tracking, sensitive pressure sensors can identify small changes in altitude and differentiate between vertical and horizontal positions or count the number of steps in a given day. Bedridden patient monitoring for activity, respiration and movement is done using piezo film sensing technology.
Sensor technology is advancing rapidly meaning that further intelligence can be integrated into medical devices, making them more sophisticated and at the same time more user-friendly.
IECQ: safety, reliability and cost-effectiveness
Even more so than in other sectors, the sensors used in medical equipment need to be extremely high-quality, reliable and accurate. Defective components are not an option since people's lives are at stake. Sensor manufacturers and suppliers all over the world have a powerful tool at their disposal, enabling their products to meet the strictest requirements: IECQ testing and certification. IECQ, the IEC Quality Assessment System for Electronic Components was established in the early 1970s. The System has grown with, and adapted to the technological developments in the electronics industry.
IECQ provides industry with a supply chain verification tool for seeking assurance that electronic components, assemblies, processes and related materials conform to declared technical standards and specifications.
In addition, there is a multitude of related materials and processes that are covered by the IECQ Schemes. IECQ certificates are used worldwide as a tool to monitor and control the manufacturing supply chain, thus helping to reduce costs and time to market, and eliminating the need for multiple re-assessments of suppliers.
IECQ operates industry specific Certification Schemes:
IECQ AP (Approved process)
IECQ AP-CAP (Counterfeit avoidance programme)
IECQ AC (Approved component)
IECQ AC-AQP (Automotive qualification programme) IECQ Scheme for LED Lighting (LED components, assemblies and systems)
IECQ AC-TC (Technology certification)
IECQ Avionics – IECQ ADHP (Aerospace, defense, and high performance)
IECQ HSPM (Hazardous substances process management)
IECQ ITL (Independent testing laboratory)
In brief, IECQ is an essential player and a key partner of industry in the development of safe, reliable and accurate medical devices and equipment
For more information on IECQ:
www.iecq.org
Contact IEC
International Electrotechnical Commission
IEC Central Office
3, rue de Varembé, 1st floor
P.O. Box 131
CH - 1211 Geneva 20 - Switzerland
Phone: +41 22 919 02 11
Fax : +41 22 919 03 00
Contact BPS – The Philippines' member to IEC
Bureau of Philippine Standards (BPS)
Department of Trade and Industry
3F Trade and Industry Bldg., 361 Sen. Gil Puyat Ave.,
Makati City, Philippines
T/ (632) 751.4736; 507.7307 F/ (632) 751.4748; E-mail:
This email address is being protected from spambots. You need JavaScript enabled to view it.