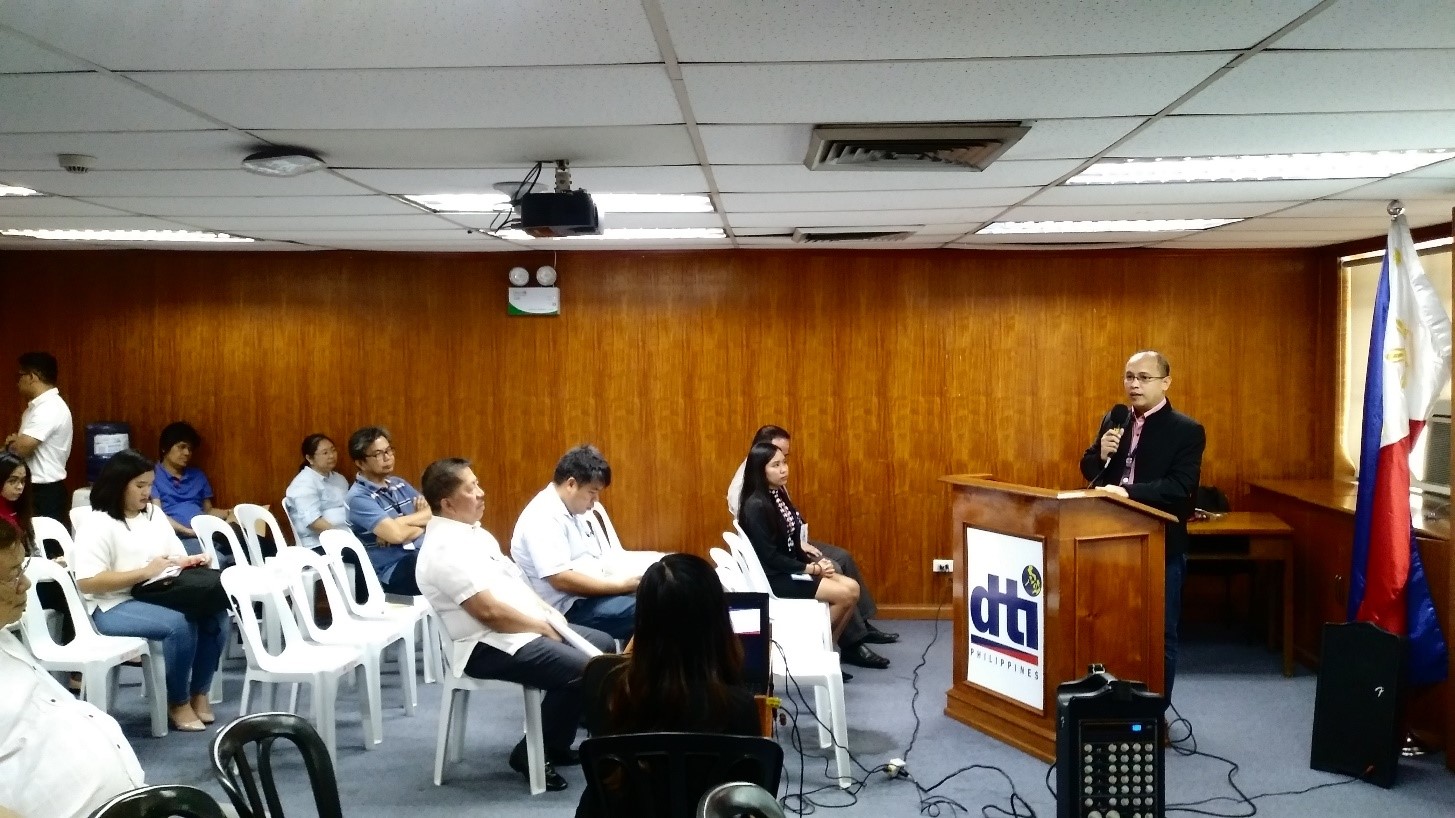 DTI-BPS OIC Neil P. Catajay delivering his welcome remarks at the Public Consultation.
Following the recent pronouncement of President Rodrigo Duterte to ensure the quality of construction materials in the market, the Department of Trade and Industry's Bureau of Philippine Standards (DTI-BPS) is preparing to include hollow blocks in the list of products under mandatory certification. The agency conducted a public consultation on its draft DTI Department Administrative Order (DAO) on the New Technical Regulation concerning the Mandatory Product Certification of Concrete Masonry Units (CMU). This was held at the 6F Center Conference Room, Trade & Industry Building, 361 Sen. Gil Puyat Ave., Makati City last 29 November 2019. Concrete Masonry Units (CMU) are rectangular blocks used in construction. In the Philippines, the more popular ones are the "Hollow Blocks".
The public consultation was opened by DTI-BPS Director, Neil P. Catajay while the salient features of the draft regulation were presented by Engr. Ariel Q. Deinla from the Standards Conformity Division (SCD) of DTI-BPS.
The draft DAO aims to strictly ensure that hollow blocks to be manufactured, distributed, or sold in the Philippines meet the specified requirements prescribed by the DTI-BPS. The draft DAO is one of the proposed measures of the DTI-BPS, giving prime consideration to the Philippines' geographical location within the Pacific Ring of Fire and with active fault lines, making the country susceptible to earthquakes.
The copy of the draft DAO is available for download at the DTI-BPS website www.bps.dti.gov.ph. All relevant stakeholders are requested to comment on the draft regulation until 29 December 2019.
Prior to the Public Consultation, the DTI-BPS met with the Bureau of Research and Standards of the Department of Public Works and Highways (DPWH-BRS) and the Association of Structural Engineers of the Philippines (ASEP) President, Engr. Ronaldo Ison to discuss the proposed technical regulation of hollow blocks in the country.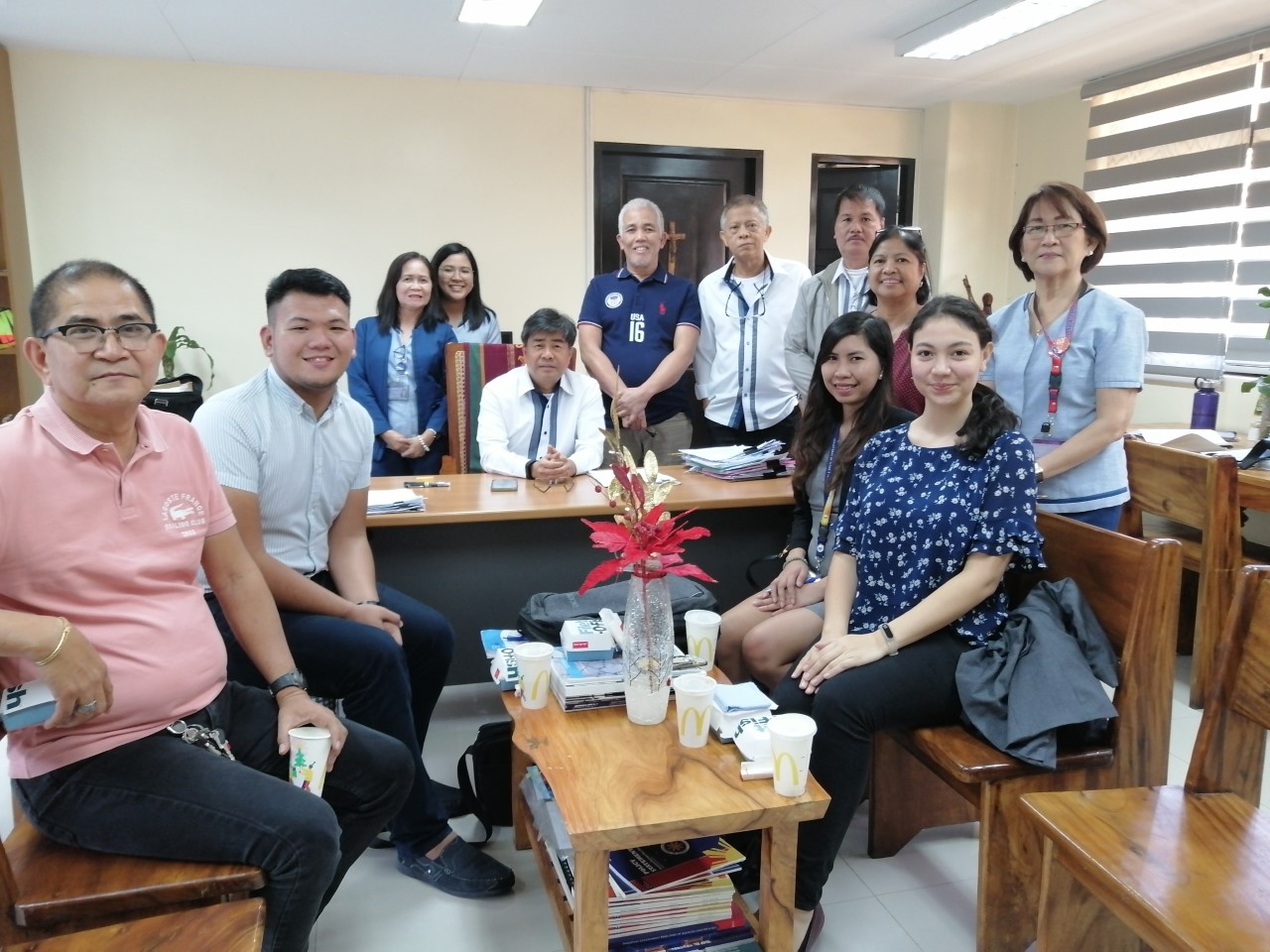 DPWH - Bureau of Research and Standards (DPWH-BRS) Director Reynaldo G. Tagudando with the BRS and DTI-BPS personnel in a consultation meeting
held last 28 November 2019 at the DPWH-BRS Office, in Diliman, Quezon City.
"The call for safety and quality regulation for hollow blocks is an urgent concern, considering that hollow blocks are one of the most widely used construction materials throughout the country.", states DTI-BPS Director Neil P. Catajay. "The recent series of earthquakes is certain to happen again in the future, but damages to structures and property can now be prevented or lessened when we have this technical regulation in place. We look forward to enacting this DAO soon."
The DTI-BPS encourages active involvement of the industry, consumer organizations and other relevant stakeholders in its policymaking activities. Participation in public consultations and submission of position papers on draft regulations are always appreciated by the DTI-BPS as this ensures balanced and efficient decision-making on its part as a regulatory body.
To always be updated with the latest news and activities of the DTI-BPS, please follow our official Facebook page: facebook.com/phstandards or visit the DTI-BPS website at www.bps.dti.gov.ph. For inquiries, kindly call the DTI-BPS at (02) 7751.4700 or send an email to This email address is being protected from spambots. You need JavaScript enabled to view it..