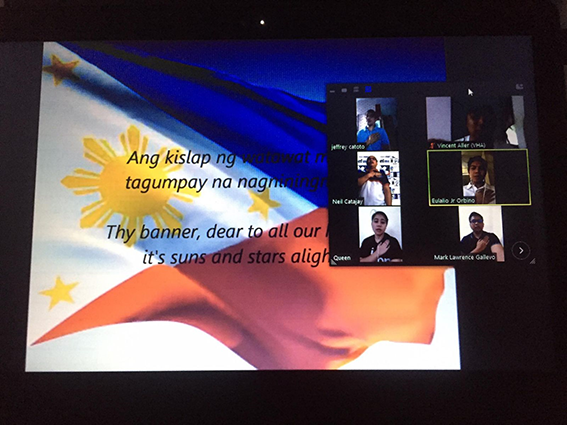 In accordance with the Enhanced Community Quarantine imposed by the government as part of its precautionary measures to reduce the risk of community transmission of the Corona Virus Disease (COVID19), most of the personnel of the Department of Trade and Industry's Bureau of Philippine Standards (DTI-BPS) continue to work at home. Despite the unconventional arrangement, the Bureau's "Serbisyong Higit Pa sa Inaasahan" remains strong. To keep the spirit firm, the DTI-BPS held its first Online Flag Raising Ceremony on Monday, April 20, 2020 through Zoom Video Conferencing. The activity was attended by 89 employees.
The program was led by Standards Development Division (SDD) Chief, Engr. Mario U. Gaudiano. Product Testing Division (PTD) Chief, Engr. Gerardo P. Maglalang; Standards Mainstreaming Division (SMD) Chief, Engr. Ma. Teresita G. Del Rosario; Standards Conformity Division (SCD) Asst. Chief Maricel A. Reduca and BPS Director Neil P. Catajay were all present and delivered messages.
In his message, Director Neil P. Catajay thanked the BPS staff for their continuous hard work in their regular tasks despite the inconveniences of working at home and for helping in the activities of the Inter-Agency Task Force for the Management of Emerging Infectious Diseases (IATF-EID). Director Catajay encouraged everyone to remain steadfast in their commitment to public service and at the same time to be strong and vigilant in the midst of the COVID-19 crisis.
The DTI-BPS presently is implementing a Work-From-Home (WFH) scheme in compliance with the Memorandum of the Office of the President entitled "Community Quarantine Over Luzon" dated 16 March 2020, as well as the DTI Department Order No. 20-37, Series of 2020, entitled, "Instituting an Alternative Work Arrangement in the Department of Trade and Industry While the Philippines is Under the State of Public Health Emergency".
Because of this arrangement, the DTI-BPS advises its clients to utilize its online Frontline Services particularly: the Product Certification Information Management System (PCIMS) accessible at www.qualityproducts.dti.gov.ph and the Philippine National Standards (PNS) Catalogue at www.bps.dti.gov.ph. Moreover, the DTI-BPS has issued Memorandum Circulars: MC No. 20-17, Series of 2020, extending to 31 July 2020 the validity of all Philippine Standard (PS) licenses issued to manufacturers that have expired or will expire by 31 May 2020 and MC No. 20-18, Series of 2020, allowing and providing the guidelines on the conduct of remote inspection and sampling of imported products which are required to undergo the Import Commodity Clearance (ICC) Certification Scheme.
For updates and more information on the DTI-BPS, please visit the Standards and Conformance Portal www.bps.dti.gov.ph and follow our social media pages. For inquiries, please email the DTI-BPS through its official email address: This email address is being protected from spambots. You need JavaScript enabled to view it..