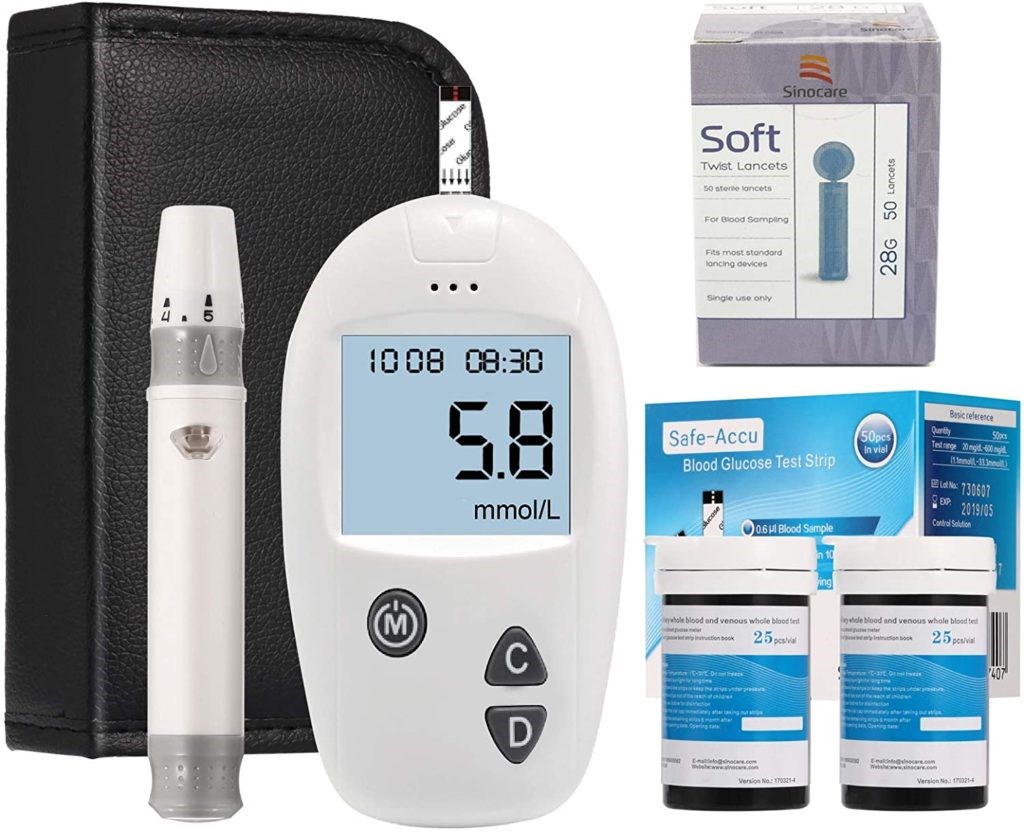 Sinocare blood glucose monitor kit (Photo: Amazon.com)
Source: IEC Blog (https://blog.iec.ch/)
Numerous trials and studies are underway, as global medical and healthcare professionals race to find a vaccine or effective treatment for COVID 19. What is already clear, however, is that people with existing medical conditions, including diabetes, cardiovascular disease, and hypertension, are more likely to catch the virus and succumb to it.
Around 422 million people worldwide suffer from diabetes, according to the World Health Organization (WHO). The most common is type 2 diabetes, occurs when the body doesn't make enough insulin. Over the past three decades, the prevalence of this type of diabetes has risen dramatically in countries of all income levels.
Given these numbers, a faculty of representatives from primary and specialist care have developed a consensus document on the management of diabetes for people at risk of or with confirmed COVID-19, for use in both primary and specialist care. The recent international study was published in The Lancet Diabetes and Endocrinology, and is entitled Practical recommendations for the management of diabetes in patients with COVID-19. It highlights the following:
• Diabetes is one of the most important comorbidities linked to the severity of all three known human pathogenic coronavirus infections.
• Patients with diabetes have an increased risk of severe complications and multi-organ failure.
• Depending on the global region, 20–50% of patients in the coronavirus disease 2019 (COVID-19) pandemic had diabetes.
The document emphasises the importance of patient sensitization for optimal control of the condition and monitoring of plasma glucose and several other aspects.
IEC Standard for wearable diabetes sensor
As healthcare technologies advance, there have been important breakthroughs, including wearable glucose sensors.
A continuous glucose monitor (CGM) is a tiny sensor inserted under your skin, usually on your stomach or arm. The sensor measures your interstitial blood sugar levels, which is the glucose found in the fluid between the cells. The sensor tests glucose every few minutes. A transmitter wirelessly sends the information to a monitor, which can be a mobile phone. Much handier and user friendly than pricking your finger and using a paper stick which was the way people routinely monitored their diabetes until recently.
An alarm can sound when your glucose level goes too low or too high. You can note your meals, physical activity, and medicines in a CGM device, too, alongside your glucose levels. You can download data to a computer or smart device to more easily see your glucose trends. Parents can monitor children with a mobile phone.
IEC 60747-14-10 specifies the terms, definitions, symbols, tests, and performance evaluation methods used to determine the performance characteristics of wearable electrochemical-glucose sensors for practical use. It can be applied to all wearable electrochemical-glucose sensors for consumers and manufacturers, without any limitations on device technology and size.
The international standard is published by IEC Technical Committee 47, which covers semiconductor devices which use sensor technology.
Contact IEC
International Electrotechnical Commission
IEC Central Office
3, rue de Varembé, 1st floor
P.O. Box 131
CH - 1211 Geneva 20 - Switzerland
Phone: +41 22 919 02 11
Fax : +41 22 919 03 00
Contact BPS – The Philippines' member to IEC
Bureau of Philippine Standards (BPS)
Department of Trade and Industry
3F Trade and Industry Bldg., 361 Sen. Gil Puyat Ave.,
Makati City, Philippines
T/ (632) 751.4736; 507.7307 F/ (632) 751.4748; E-mail: This email address is being protected from spambots. You need JavaScript enabled to view it.