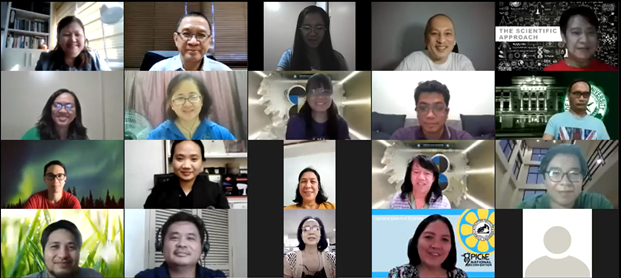 Virtual meeting of BPS/TC 45 held last 05 May 2021 via Zoom Video Conferencing
MANILA, Philippines – The Department of Trade and Industry – Bureau of Philippine Standards (DTI-BPS) reactivated its Technical Committee (TC 45) on Plastics and Plastic Products primarily in anticipation of House Bill No. 9147 mandating the DTI-BPS to develop and promulgate the appropriate Philippine National Standards (PNS) for compostable plastic products.
The reactivation of BPS/TC 45 aims to contribute, through national standardization, in addressing the universal issue of plastic pollution and, ultimately, support the various national goals such as the National Plan of Action on Marine Litter, Philippine Development Plan 2017-2022, Ecological Solid Waste Management Act, and the Philippine Action Plan for Sustainable Consumption and Production while preserving the plastic industry and finding and establishing alternative solutions and technologies appropriate in the country.
The BPS/TC 45 had its meeting last 05 May 2021 for the introduction of its members and discussion of the committee's work program for the year. The committee is comprised of experts representing the academe, consumer groups, industry representatives, professional groups, government agencies, research institutions, and testing institutions. They include the Department of Science and Technology - Industrial Technology Development Institute (DOST-ITDI) - Materials Science Division, Environmental Biotechnology Division, and Standards and Testing Division, JG Summit Petrochemical Corporation (JGSPC), Philippine Alliance for Recycling and Materials Sustainability (PARMS), Packaging Institute of the Philippines (PIP), Philippine Plastics Industry Association, Inc (PPIA), Samahan sa Pilipinas ng mga Industriyang Kimika (SPIK), Adamson University, University of the Philippines Diliman, Department of Environment and Natural Resources - Environmental Management Bureau (DENR-EMB), Philippine Center for Environmental Protection and Sustainable Development, Inc. (PCEPSDI), and Philippine Institute of Chemical Engineers (PIChE).
Mr. Mario Estrada of PIP and Engr. Elsie David of SPIK were elected as BPS/TC 45 Chairperson and Vice-Chairperson, respectively. "I welcome the opportunity to reactivate TC45 and be given the opportunity to support the BPS in its mission to establish PNS relevant to the materials it has in its purview. We have designed our current work program to establish standards that would guide and/or provide direction to legislature as well as to the stakeholders in the environment and plastics effort at balance. The current composition of the TC includes competent professionals who are already involved in addressing the issues of plastics and the environment so the perspective and focus they bring to the standards development should serve the country in good stead," said BPS/TC 45 Chairperson Mario Estrada as he expressed his take on the reactivation of BPS/TC45.
For the second meeting, BPS/TC 45 had created three working groups (WG). WG 1 will focus on standards related to biodegradability and compostability while WG 2 and WG 3 will work on standards for recycling and recovery and environmental aspects, respectively.
Engr. Elsie David, Vice-Chairperson of BPS/TC 45, shared: "From an engineering standpoint, there is always a way to make things better. With collegial teamwork, while bearing the country's environmental, social and economic welfare in mind in the time of climate change, TC 45 will be able to sort through the practical plastics circularity know-how that needs to be standardized and popularized towards efficient implementation of the different phases of a plastic's life cycle, towards plastic circularity. The standards will educate and align everyone on the global environmental concerns, give rise to user-friendly ways of comparing products in regard to factors important to sustainability, and bring down science-based frameworks from the ivory tower towards making them easier to use for planning and implementation by stakeholders."
The BPS/TC 45 will be holding its next meeting this June to present and discuss updates from the different working groups.
For more information on standards and standardization activities of BPS, please visit the DTI-BPS Standards and Conformance Portal at www.bps.dti.gov.ph and follow our official Facebook Page (facebook.com/PHstandards/). You may also call the DTI-BPS at (02) 7751.4700 or send an email to This email address is being protected from spambots. You need JavaScript enabled to view it..
(end)