The Department of Trade and Industry (DTI), through the Bureau of Philippine Standards (BPS), has ordered the destruction of Php 737,000 worth of substandard thermoplastic insulated wires and cables to prevent their sale and distribution in the local market.
The said substandard products were found non-conforming to the elongation and flame retardance requirements of Philippine National Standard (PNS) 35-1:2004 (Electric wires and cables - Thermoplastic-insulated copper wires and cables rated 600 volts - Part 1: General specifications) as confirmed by the third-party testing. The elongation is the measure of the length that a wire may be stretched to before breaking, while flame retardance is a wire's capacity to prevent a flame from spreading once it catches fire.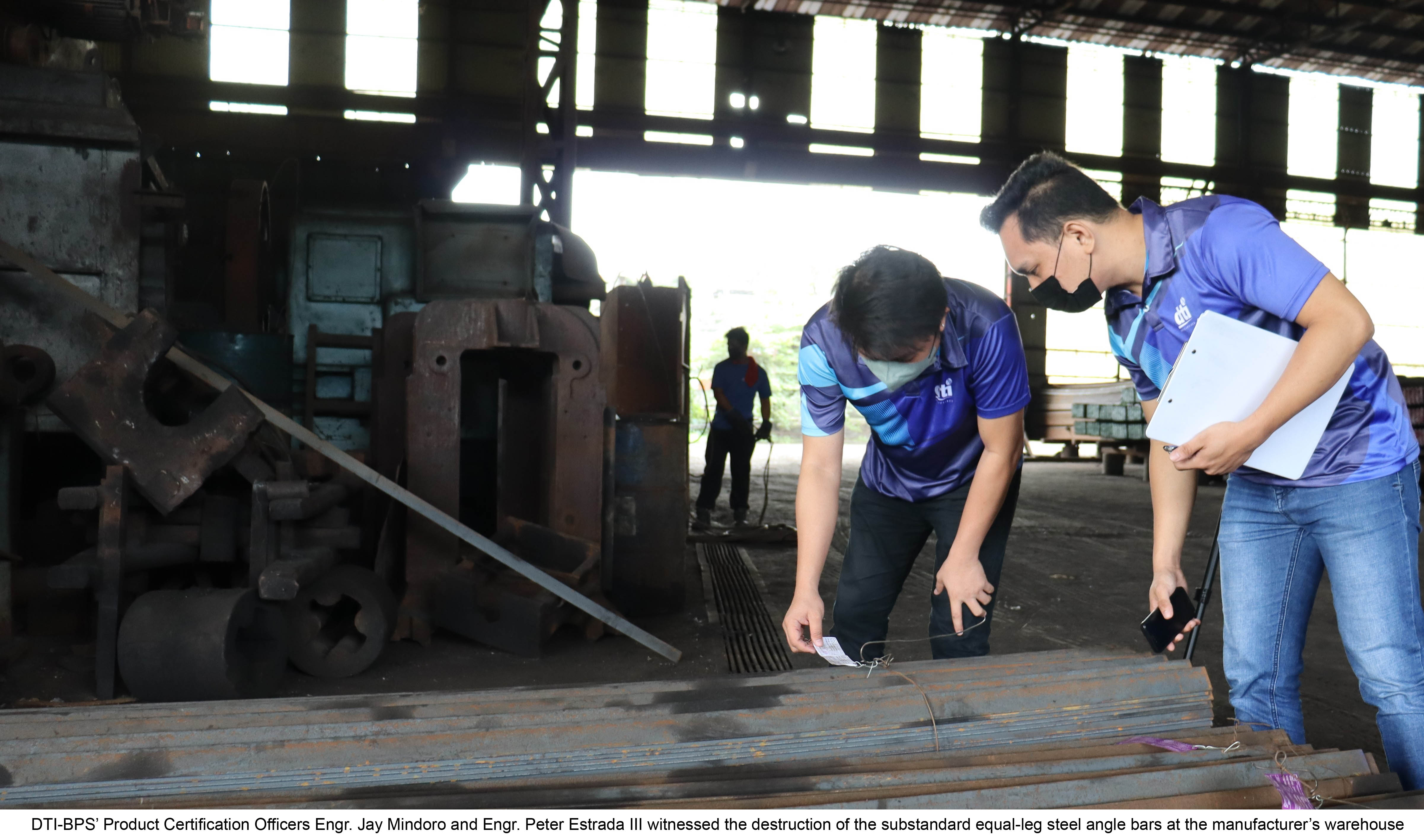 DTI-BPS witnessed the destruction of the following substandard wires and cables at the manufacturer's warehouse on 18 January 2023 and 09 February 2023:
301 cartons of 2.00 mm² and 3.50 mm² THHN/THWN-2; and
1,165 meters of 60.00 mm² THHN/THWN-2
The 2.00 mm² and 3.50 mm² THHN/THWN-2 wires and cables were cut on the top, middle, and lower portions of the rolls while the 60.00 mm² THHN/THWN-2 wires and cables were peeled and the bare copper were cut to noncommercial size by the manufacturer's authorized representatives prior to disposal.
Currently, the DTI-BPS implements two (2) Mandatory Product Certification Schemes: the Philippine Standard (PS) Quality and/or Safety Certification Mark Licensing Scheme and the Import Commodity Clearance (ICC) Certification Scheme. Products covered by the mandatory certification, whether locally manufactured or imported, are not allowed to be distributed in the Philippine market without the necessary PS or ICC marks.
At present, there are 111 products and systems covered under the BPS' Mandatory Product Certification Schemes (www.bps.dti.gov.ph/product-certification/list-of-products-under-mandatory-certification). They are classified into three (3) major product groups, namely, 1/ Electrical and Electronic Products, 2/ Mechanical/Building & Construction Materials, and 3/ Chemical & Other Consumer Products and Systems.
For more updates and information on standards, technical regulations, and conformity assessment procedures (STRACAP), please visit the BPS website at www.bps.dti.gov.ph. Emails and messages may also be sent to This email address is being protected from spambots. You need JavaScript enabled to view it. or through the official BPS Facebook page (facebook.com/PHstandards).
###