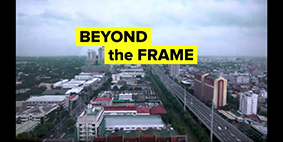 A screenshot of Aildrene Tan's video entry
The Department of Trade and Industry – Bureau of Philippine Standards (DTI-BPS) warmly congratulates Mr. Aildrene Tan for placing third at the 2019 World Standards Day #futurevideo contest held last 20 August to 10 September 2019 in celebration of the World Standards Day (WSD). With the theme "Video standards create a global stage", the contest challenged the participants to imagine the future of video and capture it in a 20-second film.
Aildrene Tan's video shows a mobile phone overlaying a cityscape with information about traffic, weather and cultural events. "Augmented Reality has become more mainstream with the rise of face filters," says Tan. "If similar filters could be used to overlay real situations with live data such as real-time information and social feed updates, that could take live and interactive video to the next level." Tan's film can be viewed through this link: https://youtu.be/izZnvjlaJVc .
Aildrene Tan works for an international NGO collecting and telling stories about development in Southeast Asia. Seven years ago, Tan bagged the top spot at the 2012 World Standards Day Poster Competition, defeating 300 entries from all over the world. Tan's 2012 winning poster can be viewed through this link:
https://www.worldstandardscooperation.org/world-standards-day/world-standards-day-2012/
The video contest's winner for WSD 2019 is Mohammad Khodadadi from Iran, and the other two runners-up are Anna Orbeli from Armenia and Martin Zavala from Mexico.