Manufacturers, importers, distributors, and other stakeholders expressed their support to the Department of Trade and Industry's Bureau of Philippine Standards (DTI-BPS) on the proposed inclusion of electronic cigarettes to the List of Products under its Mandatory Certification during the public consultation on the draft Department Administrative Order (DAO) on the New Technical Regulation concerning the Mandatory Product Certification of Electronic Cigarettes held on October 30, 2019 at the 6F Center Conference Room, Trade & Industry Building, 361 Sen. Gil Puyat Ave., Makati City.
The draft DAO prescribes the Technical Regulation for the mandatory certification of electronic cigarettes, refillable or disposable, regardless of the format or model of the vaporizing device, used with non-tobacco-containing e-liquids whether or not they contain nicotine. The draft DAO refers to the test methods prescribed by Philippine National Standard (PNS) AFNOR XP D90-300-1:2019 to verify the conformance of the product to the safety requirements of the PNS.
The copy of the draft DAO is available for download at the DTI-BPS website www.bps.dti.gov.ph. All relevant stakeholders are requested to comment on the draft regulation until 29 November 2019.
The public consultation was led by DTI-BPS Officer-in-Charge (OIC) Neil P. Catajay, who welcomed the attendees and accommodated their questions and suggestions. Meanwhile, the salient features of the draft regulation were presented by Engr. John Steven M. Magboo from the Standards Conformity Division (SCD) of DTI-BPS.
OIC Neil P. Catajay conveyed the DTI-BPS' commitment to consumer protection. "Amidst the concerns regarding e-cigarettes, the DTI-BPS is stepping in to protect the public against unreasonable risks of injury associated with the consumer product as provided in its mandate. We appreciate the cooperation of the industry in this proposed regulation and we hope to further the teamwork between both the business and the government sectors", underscored OIC Catajay.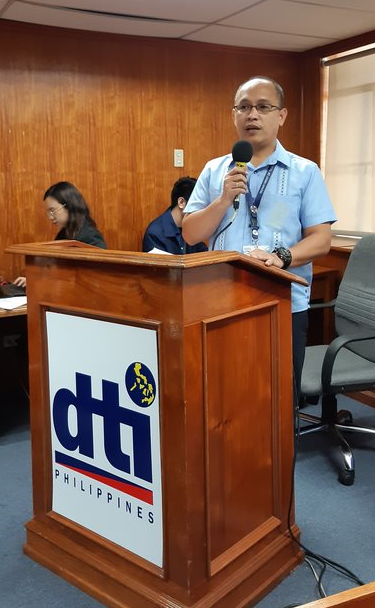 DTI-BPS OIC Neil P. Catajay delivering his welcome remarks.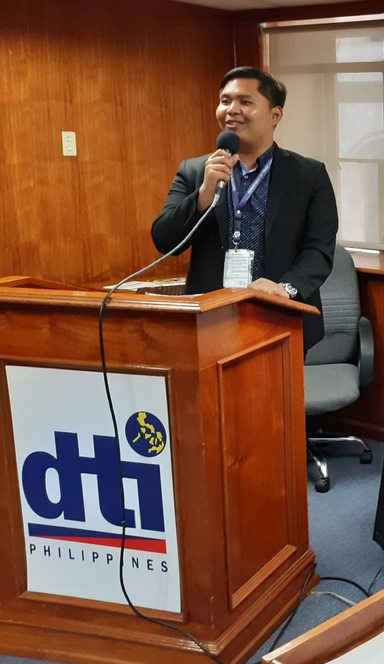 Engr. John Steven M. Magboo explaining the salient features of the draft DAO.
The DTI-BPS encourages active involvement of the industry, consumer organizations, and other relevant stakeholders in its policymaking activities. Participation in public consultations and submission of position papers on draft regulations are always appreciated by the DTI-BPS as these ensure balanced and efficient decision-making on its part as a regulatory body.
To be always updated with the latest news and activities of the DTI-BPS, please follow our official Facebook page facebook.com/phstandards or visit the DTI-BPS website at www.bps.dti.gov.ph. For inquiries, kindly call the DTI-BPS at (02) 7751.4700 or send an email to This email address is being protected from spambots. You need JavaScript enabled to view it..