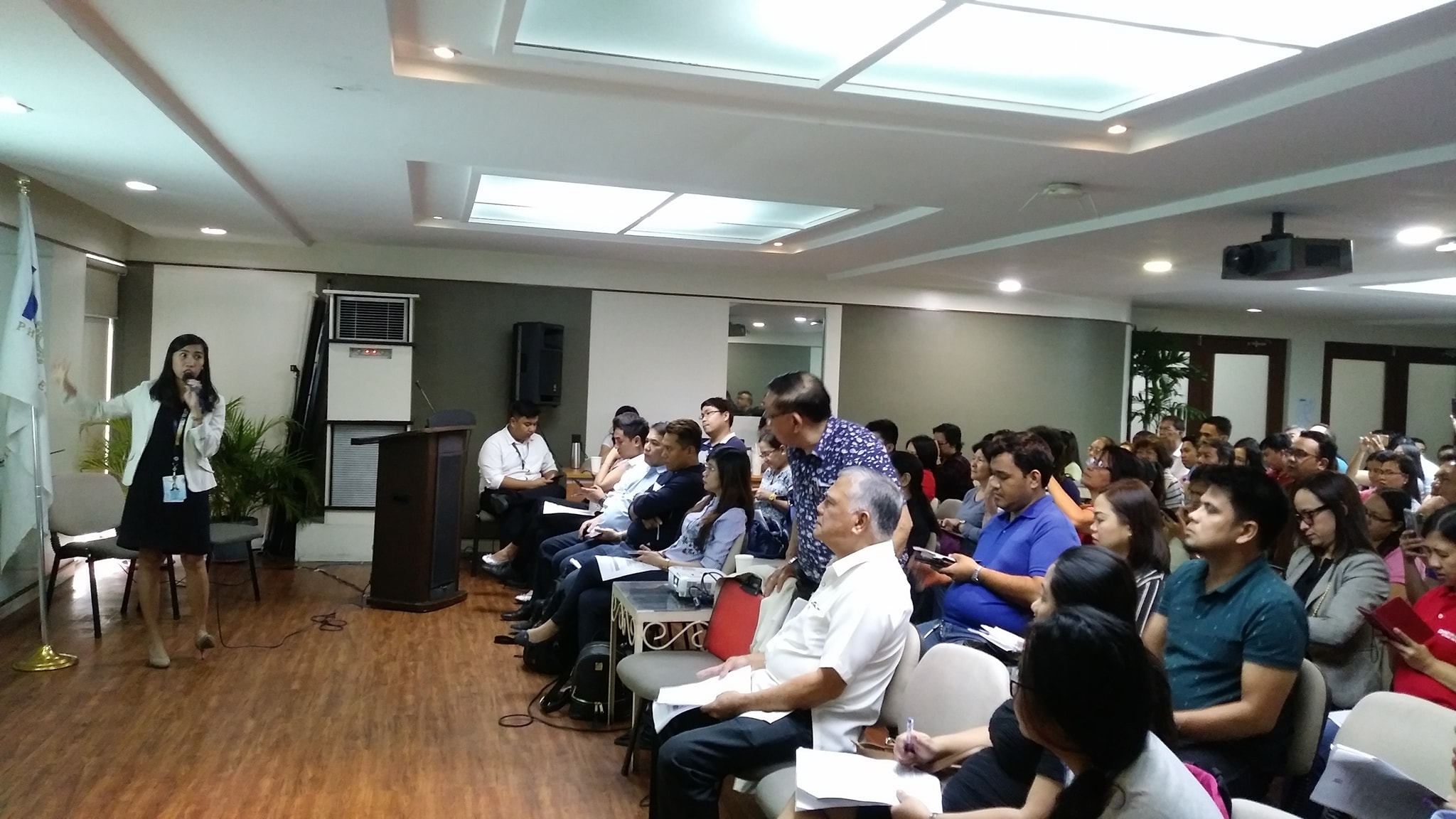 Engr. Leah Ann A. Arella, OIC of BPS-SCD presenting the details of the revised draft DAO at the public consultation.
True to its commitment to continuously improve its regulatory processes for the benefit of both the business sector and consumers, the Department of Trade and Industry's Bureau of Philippine Standards (DTI-BPS) has revised its initial draft of the proposed Department Administrative Order (DAO) on the Guidelines on the Implementation, Issuance, and Verification of the Philippine Standard (PS) Quality and/or Safety Certification Scheme and the Corresponding Certification Mark. The draft DAO seeks to strictly ensure that only products produced by manufacturers with valid PS License are affixed with the official PS stickers and allowed to be distributed in the local market.
The Draft DAO was presented at a public consultation conducted by the DTI-BPS on November 04, 2019 at the DTI-BOI Penthouse, Sen. Gil J. Puyat Ave, Makati City and attended by various stakeholders, mostly clients of the DTI-BPS. The public consultation was opened by DTI-BPS Officer-in-Charge (OIC) Neil P. Catajay, while Engr. Leah Ann A. Arella, OIC of the BPS Standards Conformity Division explained the details of the revised draft. The said public consultation was a follow-through from the initial public consultation on the draft DAO held on May 22, 2019. The substantial comments from the initial public consultation were incorporated on the revised draft DAO.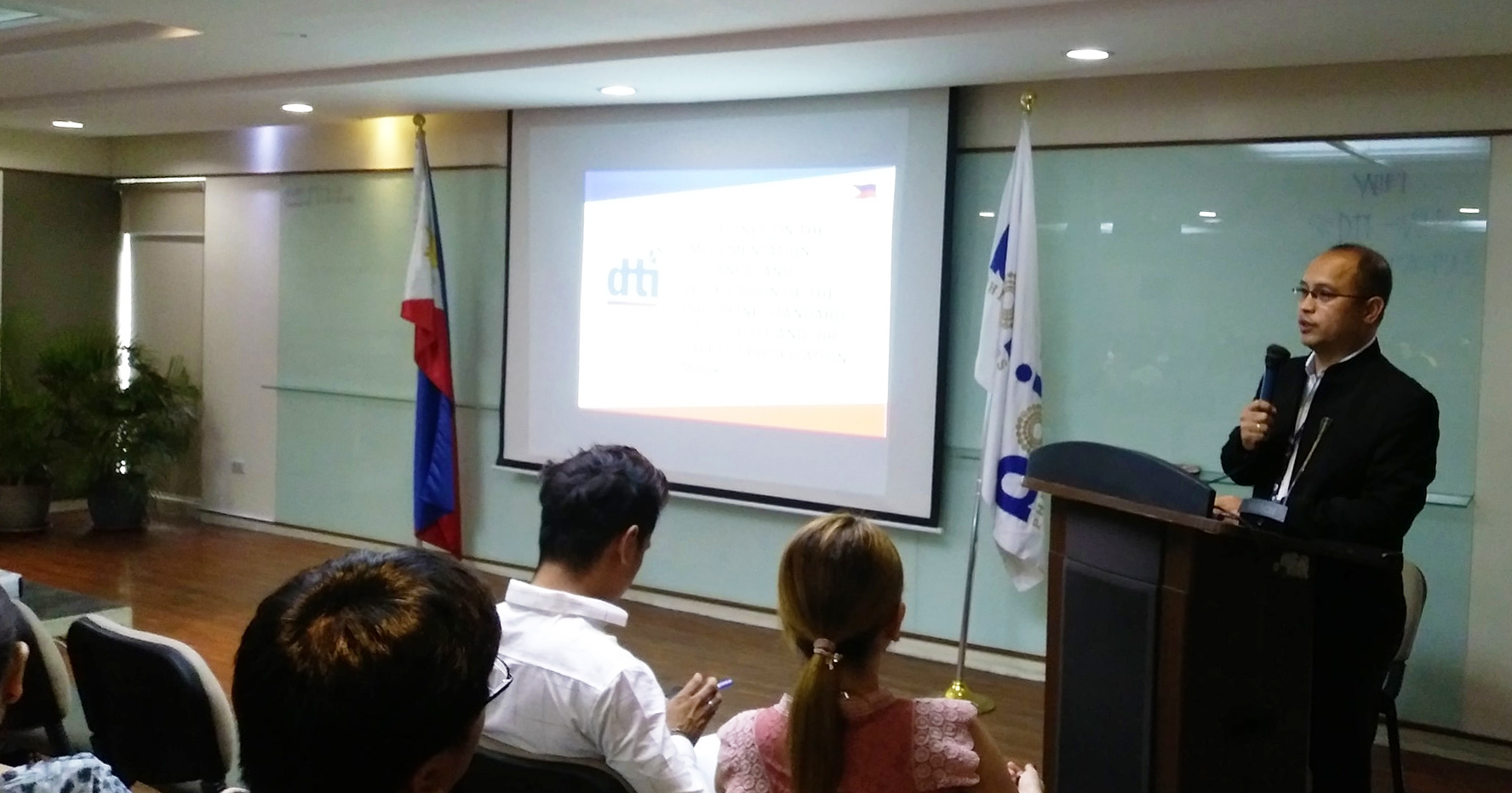 DTI-BPS OIC Neil P. Catajay delivering his welcome remarks.
Currently, PS-Licensed manufacturers are required to affix the PS Quality and/or Safety Certification Logo Mark on its certified products and the process of affixing is on their own account. The draft DAO proposes that the new PS mark shall be in the form of a holographic sticker incorporated with security features identifiable by the DTI-BPS, particularly a unique serial number, and a quick response (QR) code which shall include the details of the certified product and its corresponding PS license. The PS stickers shall only be purchased at the BPS or DTI Regional/Provincial Offices. The sticker method is similar to what is implemented with the ICC Certification Scheme for importers.
The DTI-BPS encourages active involvement of the industry, consumer organizations and other relevant stakeholders in its policymaking activities. Participation in public consultations and submission of position papers on draft regulations are always appreciated by the DTI-BPS as this ensures balanced and efficient decision-making on its part as a regulatory body.
To review the complete draft regulation, please visit the DTI-BPS website at www.bps.dti.gov.ph to download the file. All relevant stakeholders are requested to comment on the draft DAO until 04 December 2019.
To always be updated with the latest news and activities of the DTI-BPS, please follow our official Facebook page: facebook.com/phstandards or visit the DTI-BPS website at www.bps.dti.gov.ph. For inquiries, kindly call the DTI-BPS at (02) 7751.4700 or send an email to This email address is being protected from spambots. You need JavaScript enabled to view it..