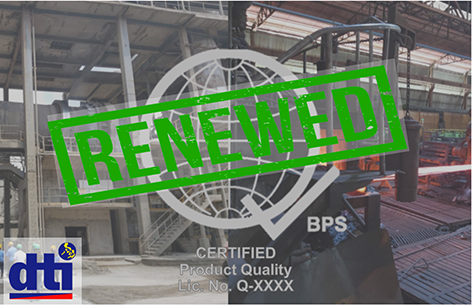 The Department of Trade and Industry's Bureau of Philippine Standards (DTI-BPS) is granting automatic renewal to local manufacturers holding valid Philippine Standard (PS) licenses that have recently expired or to expire within the year pursuant to BPS Memorandum Circular (MC) No. 20-34, Series of 2020. The MC was issued on 08 June 2020 and was published in Business World on 11 June 2020. The resolution was in consideration of the economic impact caused by the Corona Virus Disease (COVID-19) pandemic to businesses in the country and to comply with the physical distancing and safety protocols set by the government to reduce the risk of community transmission of the COVID-19 virus.
Under MC No. 20-34, s. 2020, PS License holders with recently expired licenses or with licenses expiring anytime until 31 December 2020 may avail of the automatic renewal with the usual three (3) years validity. The availing PS License holder is required to submit his/her application for re-certification/renewal of the license through the DTI-BPS' online product certification system, the Product Certification Information Management System (PCIMS) accessible at www.qualityproducts.dti.gov.ph. The payment of fees shall be deferred and shall be billed on the next surveillance activities. Moreover, the PS License holders must have no pending issues with their licenses such as but not limited to: unresolved non-conformances during the previous audits, unresolved Show Cause Order/Cease and Desist Order, and suspended licenses due to non-conforming products, among others.
Non-submission of the application for re-certification, corrective actions for non-conformance, and other required documents due to pending issues shall be construed as waiver to avail the automatic renewal.
The PS License is a requirement for manufacturers of products covered under the DTI-BPS' Mandatory Product Certification Schemes before they can distribute their products in the Philippine market. The PS license is granted by the DTI-BPS to either a local or foreign manufacturer whose factory and product have successfully complied with the requirements of Philippine National Standard (PNS), PNS ISO 9001 and the relevant Technical Regulation of the product they manufacture.
DTI-BPS Director Neil P. Catajay states, "The DTI-BPS understands that local PS Licensed companies are trying their best to cope and survive the economic brunt brought by the COVID-19 pandemic. We have already processed seventeen (17) PS Licenses for renewal and we are expecting two hundred eighty-four (284) local PS Licenses to benefit in the issuance of this Memorandum Circular. In the spirit of Bayanihan, we hope this measure is able to help mitigate the pandemic's burden in the industry."
MC No. 20-34, s. 2020 along with all other BPS issuances are downloadable at the BPS Standards & Conformance Portal, www.bps.dti.gov.ph (direct link: https://bit.ly/BPSissuances)
For updates and more information on the DTI-BPS, please visit the Standards and Conformance Portal www.bps.dti.gov.ph and follow our social media pages. For inquiries, please email the DTI-BPS through its official email address: This email address is being protected from spambots. You need JavaScript enabled to view it..