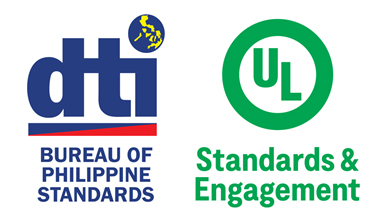 Following the collaboration and licensing agreement between the Department of Trade and Industry's Bureau of Philippine Standards (DTI-BPS) and UL Standards & Engagement last November 2020, the DTI-BPS has recently adopted and promulgated three (3) international standards on electrical wiring devices as Philippine National Standards (PNS). These standards include the PNS UL 248-1:2021 - Low-Voltage Fuses - Part 1: General Requirements, PNS UL 248-6:2021 - Low-Voltage Fuses - Part 6: Class H Non-Renewable Fuses, and PNS UL 67:2021-Panelboards. The standards were the result of the collaboration of experts, both from the BPS/Technical Committee (TC) 10 and UL Standards & Engagement, on electrical wiring devices.

As the National Standards Body, the DTI-BPS is responsible for the development and promotion of PNS as well as the nation's participation to the International Organization for Standardization (ISO) and the International Electrotechnical Commission (IEC). UL Standards & Engagement, on the other hand, is a global safety science leader dedicated to making products safer, more secure, and more sustainable through the discovery and application of scientific knowledge. Together, the BPS and UL Standards & Engagement work and focus on sectors to support national priorities ranging from electrical appliances, electric vehicle, advanced manufacturing, fire safety, and batteries to ultimately establish standards that will direct the safety, performance, and sustainability of advancing technologies.
"The continuous pursuit for harmonization with our international counterparts is one of the key contributors to the success of our standards development and conformity assessment activities. Through our agreement with UL Standards & Engagement, the BPS was able to develop standards beneficial to our stakeholders, such as manufacturers, distributors, electrical designers, electricity generators/distributors, as well as the consumers, among others. These standards establish common guidelines on the basic properties of electrical wiring devices and electrical work practices for the safer use of electricity in order to safeguard people and properties from electrical hazards," said BPS Director Neil Catajay.
To ensure common understanding of the requirements of the standards, all experts behind the standards development participated in the workshops held last 05 August 2021, 09 December 2021, and 08 June 2022. The last virtual workshop was led by Engr. Frederick Reyes, a Filipino-American engineer working as a Principal Engineer for Energy and Industrial Automation at UL Solutions. He was accompanied by Mr. Kolin Low and Ms. Amy Sim, UL Standards & Engagement's Regional Standards Manager and Senior Standards Specialist for ASEAN, Japan, Korea and Australasia, respectively. These stakeholder engagements thru roundtable meetings between international experts and technical committee members have been instrumental in capturing wide-ranging perspectives, resulting to more efficient and relevant national standards.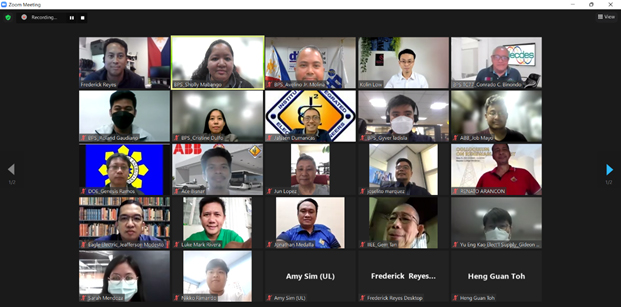 Virtual meeting led by Engr. Frederick Reyes, Principal Engineer of Energy and Industrial Automation from
UL Solutions, and attended by experts last 08 June 2022 via Zoom Video Conferencing.
"Through the BPS-ULSE our partnership's regular dialogues and exchanges of technical knowledge about UL standards, we can encourage awareness and guide the safety and performance of the application and installation of electrical wiring devices," said Phil Piqueira, UL Standards and & Engagement Vice President of Global Standards. "When we can anticipate safety risks, we can all work together to drive transformative change in pursuit of a safer and more resilient environment for everyone," added Mr. Piqueira.
"Our technical committee deliberates standards related to switches, disconnecting devices, convenient outlet, electrical insulation tape, panel boards, switchgear and control gears, and different types of electrical protective devices such as circuit breakers, Arc Fault Circuit Interrupter, ELCB or RCD, fuses, motor starters, Thermal Overload Relays, Surge Protective Devices, and others. These standards we are working on are very much important to ensure the safety of electrical installation and keep both lives and properties from significant hazards. The BPS' collaboration with UL Standards & Engagement opened an opportunity for us to look into different UL standards and helped us in clarifying the differences between the requirements of UL and IEC standards which eventually allowed us to incorporate the most appropriate parameters necessary. Moreover, the Philippine Electrical Code Part 1 makes reference to the relevant Philippine National Standards," stated BPS/TC 10 Chairman Engr. Gem Tan from the Institute of Integrated Electrical Engineers of the Philippines, Inc.
Copies of the standards may be secured for a minimal fee from the DTI-BPS Standards Data Center located at the DTI Main Office, 3F Trade and Industry Building, 361 Sen. Gil Puyat Avenue, Makati City. Please call (02) 7791.3127 or email This email address is being protected from spambots. You need JavaScript enabled to view it..
PNS are voluntary in nature and may be used as reference by any interested parties. The conformance to PNS or parts thereof becomes mandatory only when the same is used as reference in Technical Regulations issued by regulatory authorities such as the DTI.
To know more on standards and technical regulations, please visit the DTI-BPS website at www.bps.dti.gov.ph or call (02) 7751-4748 and (02) 7791-3126 or send an email to This email address is being protected from spambots. You need JavaScript enabled to view it.. Also follow our official Facebook page (www.facebook.com/PHstandards) to be updated with the latest news and activities of the DTI-BPS.
###