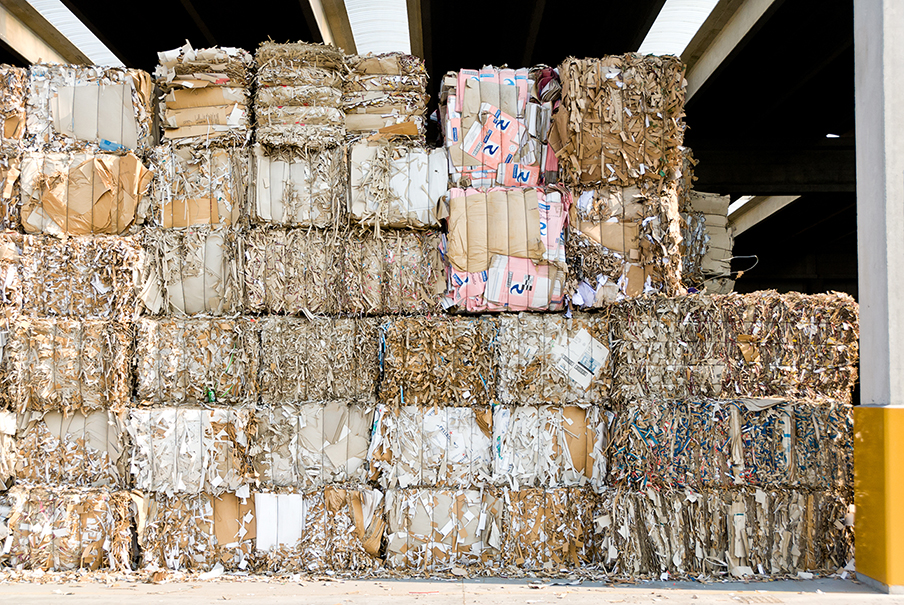 As an economic growth driver and enabler, paper recycling sector generates income and job in the country. To support its continued advancement and to facilitate the Philippines attainment of national policies and international commitments on environment, industry, innovation and economy set forth in the Philippine Development Plan, Ambisyon Natin 2040, and the United Nation Sustainable Development Goals, the Department of Trade and Industry's Bureau of Philippine Standards (DTI–BPS) has begun the development of homegrown standards on recovered paper which aim to improve its acceptability for use and transport across border.
Recovered paper (RCP) is an important, renewable raw material source for the paper industry. Local mills process RCP materials into new paper products. The recycled paper is commonly used for writing, printing, and packaging such as paper bags, corrugated box, folding boxboard, among others.
Paper recycling brings about numerous environmental and economic benefits. The reuse of RCPs significantly reduces the generation of municipal solid waste that ends up in land-fills and conserves natural resources as it reduces the number of trees being cut down. Moreover, the use of 100% recycled materials by the paper industry contributes to the abatement of flood as well as preservation of forest resources.
Furthermore, through the use of 1.4 million tons of local RCP by the industry, the consumption of about 3 million m3 landfill space is prevented, resulting to a significant reduction of greenhouse gases emission and ultimately, alleviating air, water, and soil pollution.
The use, production and purchase of RCPs represent more than Php 7 billion income to RCP collectors. In addition, the paper industry has been a source of livelihood to 1.6 million Filipinos who work as local RCP collectors, sorters, drivers, consolidators, contractors, and employees.
Locally, the production and use of RCPs are well-established and widely accepted. In the past 10 years, 85%- 90% of the fiber materials used by the paper industry in the country is RCP locally collected through junk shops, materials recovery facilities (MRFs), and RCP consolidators or traders and as the years progressed, major expansions in local papermaking capacities have been on-going which in effect raises the demand for papermaking fiber from 1.3 million tons/year to 1.5 million tons/year in 2021 and to 1.7 million tons/year by 2022 (or an increase of 30%). The necessary technologies are available and it is possible to produce all types and qualities of paper using RCP as raw material.
However, due to typhoons and pandemic, the members of the paper manufacturing industry are having a difficult time to source local RCP. The current supply of RCP available from local recycling activities is not sufficient to meet the current and long-term demands for papermaking fiber, in terms of volume and quality – causing the industry to resort to importation to prevent the mills from shutting down.
Furthermore, despite being a feedstock material and an intermediate product commodity, RCP is subject to pre-processing operations before being traded in the international market. The lack of standards and regulations governing imported RCP results to seizures or holding up of shipment once identified as municipal waste or hazardous material. These RCP importations were reported as "hazardous or municipal waste for disposal in PH" and confiscated and charged for violation of the regulations of Bureau of Customs (BOC) and Department of Environment and Natural Resources (DENR).
Thus, to fulfill the need to clarify and identify RCP as a renewable raw material and not as waste or as a hazardous material and to provide guidelines and requirements for the evaluation of the acceptability of RCPs for shipment, clearing, transport and use, the DTI-BPS has developed and promulgated the Philippine National Standards (PNS) 2162:2021 and 2163:2021 which specify the requirements for the evaluation of the acceptability of old corrugated cartons and mixed recovered paper for shipment, clearing, transport, and use.
PNS 2162:2021 Paper, board and pulps – Recovered paper – Old Corrugated Cartons – Specification defines old corrugated cartons (OCCs) as "used corrugated containers consisting of linerboard and corrugating medium" and classifies them according to composition – with "Class A" being an OCC containing lower amount of mixed paper grades and "Class B" containing higher amount of mixed paper grades.
On the other hand, PNS 2163:2021 Paper, board and pulps – Recovered paper – Mixed Recovered Paper – Specification defines mixed recovered paper as consisting of "all paper and paperboard of various qualities not limited to the type of fiber content, sorted, and processed at a recycling facility" and classifies them, also by composition, as "Type I" or mixed recovered paper for white grade and "Type II" or mixed recovered paper for brown grade.
To date, the DTI-BPS is yet to circulate for comments the Draft Philippine National Standards (DPNS) 2168:2022 Paper, board and pulps - Recovered paper - Deinks news – Specification and DPNS 2169:2022 Paper, board and pulps - Recovered paper - White ledger – Specification. Call for comments shall be posted at the DTI-BPS website at www.bps.dti.gov.ph and official Facebook page (facebook.com/PHstandards) once the draft standards are available.
"Now more than ever, recovered papers should be considered as one of the local resources we must maximize in order to achieve the goals we have set in our national policies and international commitments. Not only will these standards benefit the Philippine economy and aid in livelihood but also help us be advocates of saving the planet through recycling. The established specifications in these standards will allow the local paper industry to flourish as the authorities will have guidelines to evaluate the acceptability of RCPs," said BPS Director Neil P. Catajay.
The DTI-BPS is the National Standards Body authorized to promulgate Philippine National Standards (PNS). PNS are voluntary in nature and may be used as reference by any interested parties. The conformance to PNS or parts thereof becomes mandatory only when the same is used as reference in Technical Regulations issued by regulatory authorities such as the DTI.
Copies of PNS 2162:2021 and PNS 2163:2021 may be secured for a minimal fee from the DTI-BPS Standards Data Center located at the DTI Main Office, 3F Trade and Industry Building, 361 Sen. Gil Puyat Avenue, Makati City. You may also call (02) 7791.3127 or send an e-mail This email address is being protected from spambots. You need JavaScript enabled to view it..