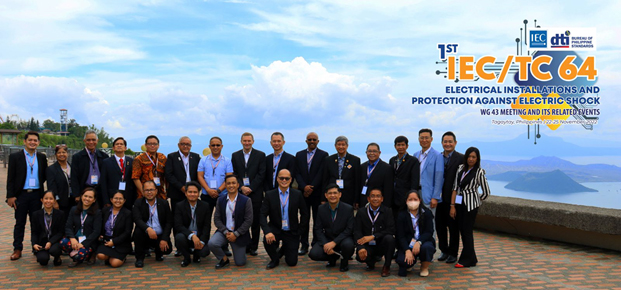 Participants of the 1st Meeting of the IEC/TC 64 Electrical Installations and Protection Against Electric Shock –
Working Group 43 from France, India, Indonesia, Malaysia, Singapore, South Korea, and the Philippines.
The Department of Trade and Industry's Bureau of Philippine Standards (DTI-BPS), under the Consumer Protection Group (CPG), hosted the 1st Meeting of the International Electrotechnical Commission's Technical Committee (IEC/TC) 64 Electrical Installations and Protection Against Electric Shock – Working Group (WG) 43 last 22 to 25 November 2022 in Tagaytay City, Cavite. The meeting was participated by representatives from France, India, Indonesia, Malaysia, Singapore, South Korea, and the Philippines.
The IEC/TC 64 - WG 43 aims to provide a series of application guidelines for low-voltage electrical installations that comply with IEC 60364, in order to provide direction to National Committees, standards users, and electrical designers in the application of IEC 60364 to five indicated systems: Motor Protection, Lighting Circuits, Uninterruptible Power Systems (UPS), Generators, and Automatic Transfer Switch (ATS).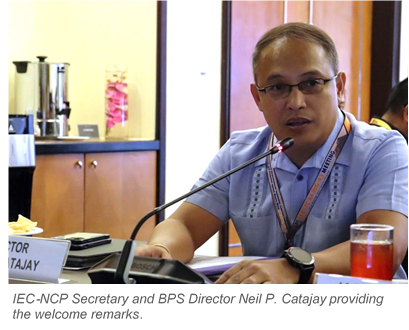 IEC-National Committee of the Philippines (NCP) Secretary and BPS Director Neil P. Catajay provided the welcome remarks highlighting the Meeting's ultimate goal of developing a series of application guides in accordance with the IEC 60364, Low-voltage electrical installations. WG 43 Convernor Mr. Paul Loke also provided his opening message.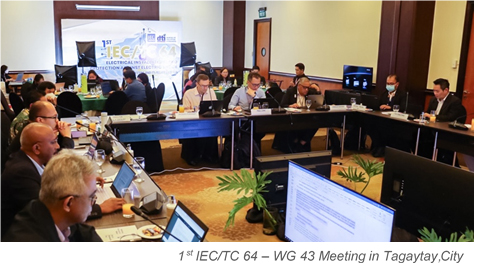 During the three-day meeting, the WG members and experts from France, India, Indonesia, Malaysia, the Philippines, Republic of Korea, and Singapore discussed the proposed application guides complying with IEC 60364 for asynchronous motor starting and protection, and rotating generators.
The IEC Seminar on Energy Efficiency and the National Electrical Code (NEC) and IEC Wiring Rules was held on 25 November 2022, in a hybrid setup. The seminar imparted knowledge and ideas to technical experts of the BPS/TC 77 as well as other electrical engineering practitioners on the following areas: the Mexico National Committee's experience with IEC adoption in a National Electrical Manufacturers Association (NEMA)-based electrical system, discussion on practical IEC adoption in Asia, and energy efficiency standards.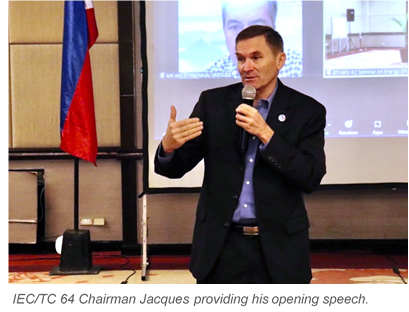 In his opening remarks, BPS Director Catajay emphasized the seminar's goal of discussing and understanding the development and adaptation of energy efficiency in relation with the application of NEC and IEC wiring regulations. He underscored that the seminar will broaden members' knowledge by having specialists discuss their experiences with adapting IEC standards from a non-IEC setting and with energy efficiency based on actual installations.
IEC Regional Director Dennis Chew, in his opening message, introduced the IEC, its functions, as well as the benefits of membership in the network in terms of standards development. Thereafter, IEC/TC 64 Chairman Jacques Peronnet provided a background of the Technical Committee 64 as well as the contribution of the Philippines in the development of the IEC standards.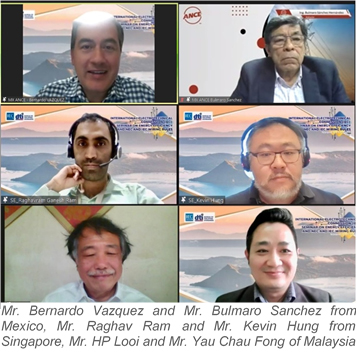 Mr. Bernardo Vazquez and Mr. Bulmaro Sanchez from Mexico, Mr. HP Looi and Mr. Yau Chau Fong of Malaysia, Mr. Jacques Peronnet of France, and Mr. Kevin Hung and Mr. Raghav Ram from Singapore served as resource speakers for the seminar, which was divided into four (4) sessions and focused on (1) experience on IEC adoption in a NEMA-based electrical system, (2) practical IEC adoption in Asia, (3) energy efficiency development in ASEAN countries, and (4) energy efficiency (hyper energy efficient facilities with case study).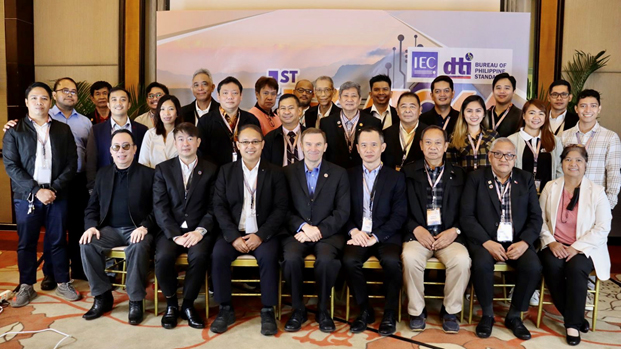 22 – 25 November 2022, Tagaytay City, Philippines
The seminar was moderated by IEC/TC 64 WG 43 Convenor Mr. Paul Loke and was attended by 116 representatives from both private and public sectors.
For more updates and information on standards, technical regulations, and conformity assessment procedures (STRACAP), please visit the BPS website (www.bps.dti.gov.ph). Emails and messages may also be sent to This email address is being protected from spambots. You need JavaScript enabled to view it. or through the official BPS Facebook page (facebook.com/PHstandards).
###